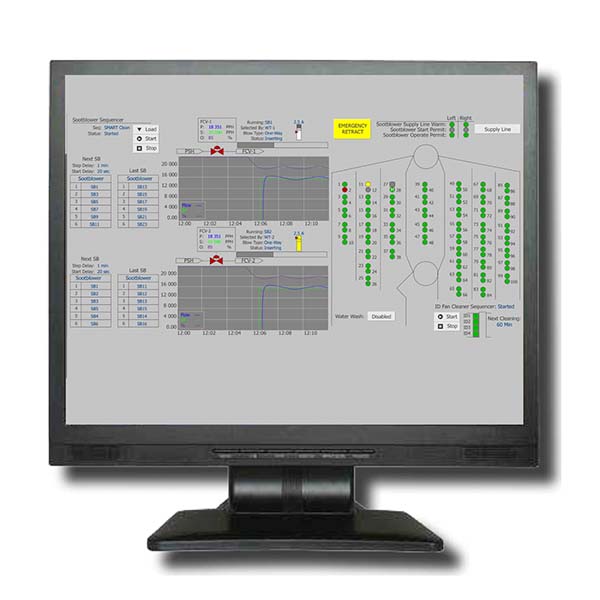 Operating Principle
Open PLC system with a PC-based/touch panel operating and observation interface
Graphic visualisation of all cleaning areas as well as cleaning and plant parameters
Subsequent optimisation of cleaning areas can be realised by the operator via GUI
Open modular design for the control of all cleaning systems
Technical Summary
Innovative control system with an open architecture design for efficient control of on-load cleaning equipment.
Key Industries: Power Generation, Waste-to-Energy, Biomass, Oil & Gas, Other Industrial Processes
Key Features
Easy and comfortable programming or change of cleaning areas and cleaning parameters
Clear representation and documentation of boiler geometry and cleaning areas
Automatic transmission of all relevant data to the DCS
Modular design for ease of expansion
Built-in tools for data logging and reporting
Product Benefits
Unique logic and controls function blocks optimised for Clyde Bergemann cleaning solutions
Supports integration with plant's DCS
Supports system diagnosis, tuning and troubleshooting
YOU MAY ALSO BE INTERESTED IN…
Our services, knowledge and experience are utilised to provide optimal support and are tailored specifically to individual customer requirements. From spare parts to surveys, maintenance and training – we cover your needs.