Part-Retractable Sootblower (VX-HB)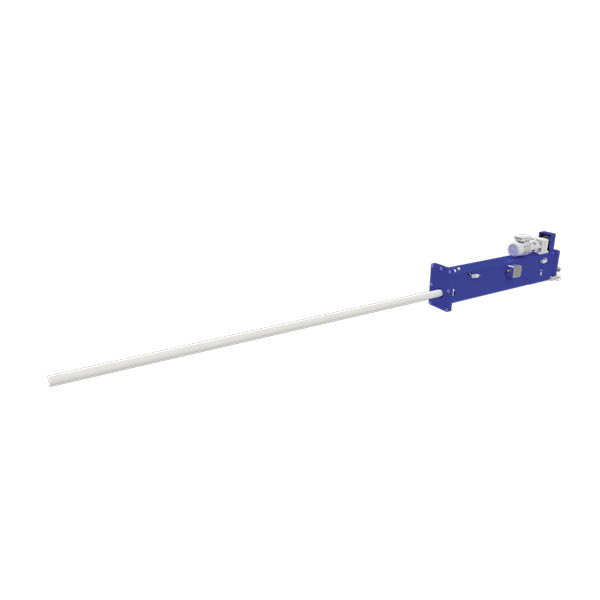 Operating Principle
The blowing tube is equipped with high-performance nozzles over the whole length and is supported in the flue-gas path
During the blowing process, the blowing tube continues to move helically into the flue-gas path
On reaching the prescribed travel, the direction of movement changes and the blowing tube returns to its rest position
The blowing tube remains partly in the flue-gas path
Technical Summary
Clyde Bergemann's Part-Retractable Sootblowers are the solution for an efficient cleaning of heating surfaces in various applications, with heavy fouling and flue-gas temperatures < 800 °C (upper limit may vary based on type of application).
This type of sootblower is a cost-effective solution especially for medium sized boilers. This economic and easy to maintain sootblower is constructed for dependable operation, indoors and outdoors in all climates. It´s compact design is highly compatible with the space restrictions often found on fired heater installation. For this vast range of applications, Clyde Bergemann offers several part-retractable sootblower versions with different travel ranges to meet specific cleaning requirements. Also suited for hazardous area conditions.
Cleaning Medium: Steam, Air
General Application Areas: Superheater, Reheater, Economiser, Air Preheater, Gas-Gas Heater
Travel Range: up to 2.4 m
Cleaning Arc: 360 ° (Oscillating arc: 50 ° – 90 ° for VX-PB model)
Key Industries: Oil & Gas, Marine, Other Industrial Processes
Key Features
Poppet valve with adjustable throttle disc for easy adjustment of the blowing pressure
Stainless-steel feed tube, polished to minimise leakage at stuffing box connection with lance tube assembly
Temperature-and corrosion resistant blowing tube with high performance nozzles
Compact track beam, constructed out of standard box sections
Standard gear motor with integral spindle and nut drive mechanism
Static electrical components with simplified field wiring
In-built air sealed wallbox with sealing elements corresponding to boiler pressure mode
Sealing and scavenging air piping with dedicated fan (optional)
Cantilever design up to 1.4 m travel
Add-ons: SMART Set for external adjustment of throttle disc
Product Benefits
Increased plant availability due to reliable boiler cleaning, resulting in efficient plant operation
Prevents fouling in convection areas of the boiler
Increased boiler efficiency through improved heat transfer
Compact design with minimal footprint to fit into available space
Reliable and simple to maintain
Cost-effective design for medium sized boilers
YOU MAY ALSO BE INTERESTED IN…
Our services, knowledge and experience are utilised to provide optimal support and are tailored specifically to individual customer requirements. From spare parts to surveys, maintenance and training – we cover your needs.